We Are KC Laser Co
Handcrafted in the heart of the country at KC Laser Co we create one of kind, eye catching, custom items to SHOWCASE your unique style, brand, and personality.
SHOP NOW
We are KC Laser Co
At KC Laser Co we love creating, engraving, designing, stitching, and working to create unique one of a kind items. Handcrafted and custom made in Kansas City, we create hats and other items to showcase your unique style, brand, and personality.
We make awesome hats. We use custom designed laser engraved leather patches, hand stitched on hats that we guarantee you will love.  Kansas City. Chiefs. Royals. Outdoors. Wildlife. Youth. Hunting. Lake Life. Custom. Wholesale. We do it all. Completely in house with lightning fast turnarounds.
Come have a look around to see what all we have created. Check out the hats we hand craft, the yeti cups we engrave, and all the items we build out of wood. 
Just discovered KC Laser Co at a local KC store in December and found too many hats that I liked!! High quality hats + hometown + High quality customer service = customer for life! Thanks Brett, can't wait to load my closet with your hats!
Brian F.
Incredible customer service, made the group feel like we were his top priority. Being on a time crunch didn't phase him one bit, product looks phenomenal and I now know who I will use when getting hats in the future.
Cameron P.
Super fast replies, fast shipping, and the product looks great. I had a custom youth cap done and it turned out better than I could expect. HIGHLY recommend these guys!
Justin C
I love the way my hat turned out! KC Laser Co was very quick and helpful to respond to my request for a custom leather design. I highly recommend them to anyone looking for a stylish and good quality hat
David W
Custom Hats & Orders
Custom hats are an eye catching, effective way to promote your brand, business, and start a conversation about what you do. We love to work with brands big or small. Our pricing breaks as you order more volume. 
Learn More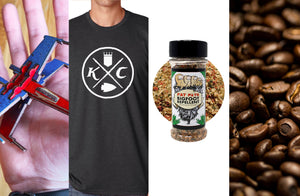 MARKETPLACE
Visit our online store to find exclusive items, gifts, apparel, and more. We have curated a collection of unique products, makers, and brands from KC that we love and know that you will love too.
Shop Now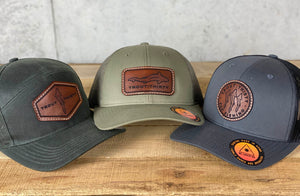 Wholesale Inquires
We offer the option to wholesale your custom designed leather patch hats. For large quantities, we can offer competitive pricing and flexibility that large manufacturers simply can not.
Become a wholesaler