Custom Hats
Custom hats are an eye catching, effective way to promote your brand, business, and start a conversation bout what you do. Whether you are a husband and wife starting a new business venture or a company with hundreds of employees. A ranch out in wyoming or a utility company in Kansas City. We love to work with brands big or small. Our pricing breaks as you order more volume.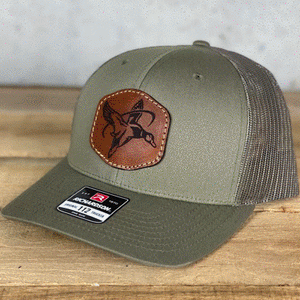 Hat Options
We offer a wide range of hats for custom orders. Currently we offer Richardson, CC Beanie, Legacy, Comfort Colors, Sportsman, DriDuck, Flexfit, and yupoong. We have a perfect hat for anyone. We also offer a wide range of trucker hats, ball caps, flatbills, and also wax cotton hats.
This might make it hard to decide on a hat – but allowing our customers to choose from a wide variety of blanks is what sets us apart from other companies. We've included images below for you to browse.
Natural Leather Options
The Original Standard Brown  - and our most popular hide that darkens naturally over time. It looks great on every hat. 
The Gold (Mustard) Leather - Beautiful contrast and clarity for any logo.
Natural Vanilla Leather - A light and flexible leather that has a great look to it. 
Black Leather - Solid, durable, clean. Low contrast and subtle look. Best for simple logos or designs.